Sunday brunch, falafels in the rue des Rosiers, proper Jewish bagels, the front gardens of old houses turned into café terraces…just some of the foodie attractions of the Marais. Lunch in this quarter may turn out cheaper than you might think.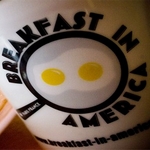 17, rue des Ecoles – 75005 Paris – Métro : Saint-Paul
Fans of the American-style breakfast should head here! Brunch at BIA has long been famous, so you're going to have to queue on a Sunday, where you'll join the stragglers from last night's partying. Sleepyheads, never fear…brunch is served all day long here! True, the dining room is small and the wait can be long, but once you've tried the delicious pancakes and sausage and eggs, your stomach will thank you for your patience!
To complete the experience try the Obama milk-shake with chocolate and peanut butter.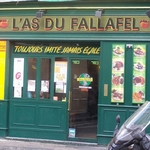 34 Rue des Rosiers – 75004 Paris – Métro : Saint-Paul
La rue des Rosiers is crammed with hidden restaurants but the winner by miles is L'As du Falafel, with its green frontage, the inevitable queue outside and its enthusiastic welcome. The house speciality is vegetarian falafel (5€ to take away and 14€ to eat in). It's the best in Paris, if you believe the strap line 'Always imitated, never equalled'. Scoop!! Lenny Kravitz is a regular…Girls, you may already have spotted him on a Velib rent-a-bike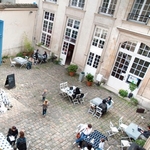 11 rue Payenne – 75003 Paris – Métro : Saint-Paul
This tiny café is a little paradise with its terrace in the cobbled courtyard of the l'Hôtel de Marle and its friendly Nordic ambience. This is part of the Swedish Cultural Centre so don't be surprised by the IKEA decor in the attractive room which often houses exhibitions. Tea and coffee is just 2€ for all you can drink – you hang on to your cup and help yourself to as much as you like! If you decide to try the delicious carrot cake and enjoy it in the sunny courtyard, be prepared to share it with the local sparrows – they don't give up easily!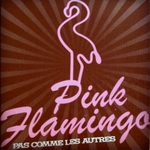 105 Rue Vieille du Temple – 75003 Paris – Métro : Saint-Sébastien-Froissart
Enter a pizzeria and come out with a pink ballon. Invite your mates for dinner in an authentic flower-power camper; get excited about an edible Basquiat. That's what you'll find in the Pink Flamingo, where the amazing pizzas, made from organic ingredients, have names like Gandhi, Almodovar and Obama. There are several eat-in options 1) the fifties style dining room, 2) the hippy camper, 3) the Pink-Nik: You order, you take your pink balloon and you make yourself comfortable in the gardens of the Picasso museum. When the pizza is ready, the server will bring your pizza and the pizza party can begin déjeuner sur l'herbe style.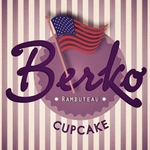 23 rue Rambuteau – 75004 Paris – Métro : Rambuteau
Give yourself a sweet treat before you head for work at the BPI! Berko is a hangout for would-be yuppies and American college-girl lookalikes where you'll get to enjoy the delicious display of row on row of colourful mini cupcakes in a multitude of flavours. Our top three are: the 'Black 70% cream cheese', the 'Orange-chocolate' and for fans of the TV series, the unmissable 'Dexter' with a raspberry and mascarpone filling. Nom, nom, nom…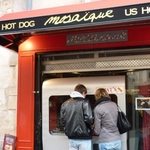 56 Rue du Roi de Sicile – 75004 Paris – Métro : Saint-Paul
The back of a hippy camper van serves as the shop front for Pat, the friendly host of this hot-dog stand. These delicious hot-dogs are served in a proper bun with ketchup, mustard or fried onions. You can also try the hot-dog alsacien with sauerkraut, the tex-mex with chilli con carne and the US with onion jelly. This is a budget snack to line your stomach between drinks…