Bars around Bastille
The majority of the bars in the area are grouped around Lappe, Charonne and Roquette streets. If you fancy something a little bit different, just head to the rue des Boulets or rue du Buzenval.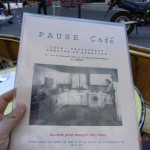 41 rue de Charonne, 75011 Paris – Métro :  Ledru-Rollin
Undoubtedly the best terrace in the area. Always crowded and super trendy, this is a safe bet. It is located just where the pavement widens, forming a gorgeous plaza across the rue de Charonne and the rue Keller.

5 rue Trousseau – 75011 Paris – Métro : Rue-des-Boulets
This is the story of two café owners who, having been to Germany, developed a love for the Berlin atmosphere. Once they returned, they transformed a Parisian café into mittlecafe! Resolutely German, the Café Titon offers huge tankards, Becks or Paulaner, and the irresistible currywurst. Events in pure Berlin style are organized occasionally, like the famous Beer Garden in the quarter. Super-cool!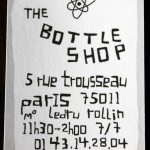 5 rue Trousseau – 75011 Paris – Métro: Ledru-Rollin
English expat? A Parisian, nostalgic about your Erasmus year in London? You just found the HQ… the Bottle Shop is an English pub in soul more so than in appearance (decorative patchwork mirrors, office lamps, delapidated benches – that's not so British!) With enough of a rock atmosphere for groups of exuberant mates, the Bottle Shop pleases everyone with a happy hour formula – a cocktail plus a pint for €4.80!