Some institutions in the neighbourhood, such as Lutèce or the quays of the Seine, welcome athletes with open arms, allowing them to train in a stunning setting. But if you prefer indoor sports, be aware that the majority of gyms offer discounts for students.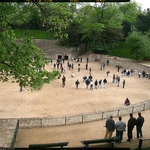 Boulodrome des arène de Lutèce
47 rue Monge-8 rue de Navarre – 75005 Paris – Métro : Place-Monge
Almost every arrondissement has its petanque or bowling ground. But you will not find such a wide selection to enjoy anywhere else. In the Lutèce arena, the remains of a Gallo-Roman amphitheater built in the 1st century, you can engage in a fierce game of bowls on the ground that once hosted the fighting beasts and gladiators. Something to feed your competitive spirit on…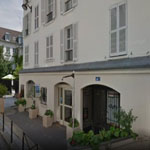 Gymnase Amyot
3 rue Amyot – 75005 Paris – Métro : Place-Monge
The Amyot gym, close to Rue Mouffetard, leases rooms to sports associations or private teaches, especially those who teach dance, yoga and martial arts. Simply go to the gym's reception area to learn about the course timetable and the disciplines offered: karate, aikido, taekwondo and others. If you are more into basketball, volleyball or badminton, you'll prefer the neighbouring Gymnasium Lavoisier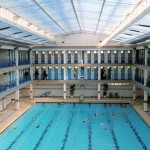 Piscine Pontoise
19 rue Pontoise – 75005 Paris – Métro : Maubert-Mutualisté
Located in the interior of the Club Quartier Latin sports complex, the Pontoise pool is probably not the best pool in Paris. Nonetheless, its remarkable Art Deco architecture, its location in the heart of the university district and its extended hours (it closes at 11:45pm on weekdays) make it an ideal place for a night swim.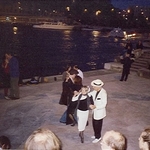 Petit bals en plein air
Quai Saint-Bernard – 75005 Paris – Métro : Jussieu
Dancing a tango under the stars, beside the Seine, by the light of the projectors of the Bateaux-Mouches … This is not a scene from a romantic comedy, this is really what happens every evening in summer on the docks between Sully and le pont d'Austerlitz. This zone called "petits amphis" because of the four small arenas, surrounded by terraces (to watch from or to catch your breath) is dedicated to dance, whether it's salsa, rock or traditional Breton dances. Everyone can try it for free. For beginners, there are free lessons from 7pm to 9PM. Magical atmosphere.