Finding the right place for a convivial meal with friends is not so easy here. It's best to avoid the rue de la Harpe and Huchette, which have been invaded by tourist-trap restaurants.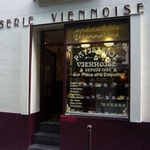 8 rue de l'Ecole-de-Médecine – 75006 Paris – Métro : Odéon
Since 1928 this gourmet showcase of Viennese Pastry has constantly attracted the attention of passers-by. Students from nearby universities chill out on the benches of in a Lilliputian room, decorated in retro style to taste the cinnamon apple strudel or delicious Sachertorte accompanied by a cup of homemade chocolate. There are snacks and sandwiches at lunch and hot drinks and pastries to take away at any time. No credit cards.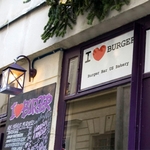 20 rue des Boulangers – 75005 Paris – Métro : Jussieu
Tucked away in an alley near Jussieu, I Love Burger is delicious fast-food restaurant created by the young team from the nearby galerie 24. Able to oscillate between visual art and burgers, burritos and tacos, a smiling Cyril and his colleagues offer burgers with all the sauces served with a cascade of fry in pans that serve as plates. Home delivery lunch and dinner.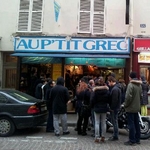 62 Rue Mouffetard – 75005 Paris – Métro : Place-Monge ou Censier-Daubenton
Au p'tit grec is the ultimate pancake house on Rue Mouffetard. You'll recognize it by the line of people spilling out onto the pavement day and night. Here, the pancakes and galettes are large, well-filled and served with salad and fresh tomatoes. The choice is vast and the quality is vastly superior to other pancake-kebabs shops in the neighbourhood. It is possible to eat on site.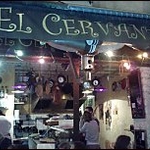 46 Rue Daubenton – 75005 Paris – Métro : Censier-Daubenton
Tapas bars worthy of the name are not numerous in the capital, but this place is really worth a visit. Settled on a cheerful terrace, you will undoubtedly notice the hams hanging from the ceiling and be jealous of the dishes that arrived at your neighbours' table. But your turn will come too! Patrick and Luis struggle in the kitchen to whip up tortillas, quesadillas, patatas bravas, and other hot or cold tapas to enjoy with sangria or Spanish wine. Rich, warm and quite cheap (starting around €15 per person, drinks included).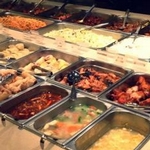 21 Quai Saint-Michel – 75005 Paris – Métro : Saint-Michel
At first glance, this restaurant with a blue front and no sign is nothing more than a banal Asian caterer. Except that everything is unlimited! The buffet has Chinese, Japanese and Thai specialities. In the end, this is a greasy spoon, but for large stomachs!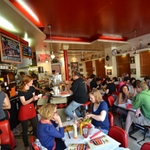 17 rue des écoles – 75005 Paris – Métro : Cardinal-Lemoine ou Jussieu
Created by American expatriates missing the delights of the U.S., the BIA is a must in the community of burger addicts. Hungry student customers come to stuff themselves on cheeseburgers, decorated with coleslaw and crisp fries. There are also ultra-consistent breakfasts, based on pancakes, tortillas, or bacon and eggs, which are the joy of late risers.