Where to get a drink in the Marais
From eccentric and very lively gay-friendly bars to peaceful tea-shops, from trendy terraces to English-style pubs…there's something for everyone here!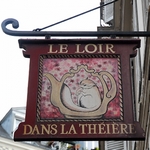 3 Rue des Rosiers – 75004 Paris – Métro : Saint-Paul

Are you thinking of writing your memoirs curled in a comfy armchair at the Loir dans la Théière?  Well, make sure you're armed with paper and pens because laptops aren't allowed in this tea-shop with an international feel, vintage furniture and walls lined with theatre posters!  What does that matter, when you can scoff chocolate cake and homemade crumble.  We would advise you to avoid their weekend brunch, though.  It's a victim of its own success and is no longer good value for money.
16 Rue Vieille du Temple – 75004 Paris – Métro : Saint-Paul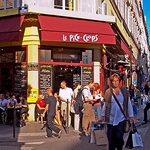 As soon as you cross the threshold of the Pick Clops you'll find yourself in an enchanted, fifties-style world.  The all-pervading smell of popcorn (that's served with the drinks), the fluorescent pink decor and the multi-coloured Formica tables mean that you're expecting the Fonz to stroll in at any moment!  The terrace has the advantage of a location on a busy crossroads and the disadvantage, for the same reason, of always being jam-packed.  Make sure you try the 11€ bagels.
78 rue Vieille du Temple – 75003 Paris – Métro : Filles-du-Calvaire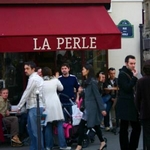 Take a bar steeped in the seventies, there are plenty to choose from, add a really well located terrace, mix well with a few VIP regulars and a quiet local bar suddenly becomes a fashionable place to be.  Try La Perle on a Saturday for pre-dinner drinks and you'll see for yourself the trendsetting 'made in Marais' phenomenon.  You're bound to meet some interesting people on this crowded street-front.
9, rue au Maire – 75003 Paris – Métro : Arts-et-Métiers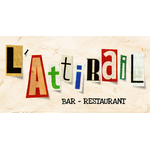 This old-fashioned style local port of call, its walls lined with posters and photo-booth pictures, is one of the genuine landmarks for students in this quarter.  Once students would gather to enjoy a beer and listen to music.  Now there is no more live music but the beer is still good!  Happy hour from 3:30 to 8pm.
7 Rue de la Verrerie – 75004 Paris – Métro : Hôtel-de-ville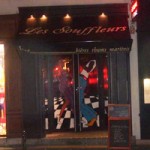 Les Souffleurs is on the corner of la rue des Mauvais Garçons (Bad Boys' Street!).  It's well named because this is a good gay-friendly venue!  Upstairs you can sip a cocktail in a leather armchair and a cosy atmosphere.  Down in the cellar the atmosphere is soon red hot, particularly at weekends when several DJs keep the music going all night long.  Not gay?  Don't worry everyone's welcome here, gay or straight.
Filter by
| | Title | Category | Address | Description |
| --- | --- | --- | --- | --- |
| | Lizard Lounge | Musique / Music | 18 rue du Bourg-Tiboug | Métro : Saint-Paul |
| | The Quiet Man | Musique / Music | 5 rue des Haudriettes, Paris | Métro : Rambuteau ou Hôtel-de-Ville |
| | Les Souffleurs | Bars | 7 rue de la Verrerie | Métro : Hôtel-de-Ville |
| | L'Attirail | Bars | 9 rue au Maire, Paris | Métro : Art-et-Métiers |
| | La Perle | Bars | 78 rue Vielle-du-Temple, Paris | Métro : Filles-du-Calvaire |
| | Le Pick Clops | Bars | 16 rue Vielle-du-Temple, Paris | Métro : Saint-Paul |
| | Le Loir dans la Théière | Bars | 3 rue des rosiers, Paris | Métro : Saint-Paul |
| | La mosaïque | Restaurants | 56 rue du Roi-de-sicile | Métro : Saint-Paul |
| | Berko | Restaurants | 23 rue Rambuteau, Paris | Métro : Rambuteau |
| | Pink Flamingo | Restaurants | 105 rue Vielle-du-temple paris | Métro : Saint-Sébastien-Froissart |
| | Café du centre culturel suédois | Restaurants | 11 rue Payenne paris | Métro : Saint-Paul |
| | L'as du Falafel | Restaurants | 34 rue des rosiers paris | Métro : Saint-Paul |
| | Breakfast In America | Restaurants | 4 rue Malher paris | Métro : Saint-Paul |
| | Tennis Neuve-Saint-Pierre | Sports | 5 rue Neuve-saint-pierre paris | Métro : Saint-Paul |
| | Piscine Saint-Merri | Sports | 16 rue du renard paris | Métro : Rambuteau ou Hôtel-de-ville |
↳